All of Huang Xoo Veen's (Xoo) artworks are painted with a soft touch like pastels, but they are all created with acrylics. One of the characteristics of his work is that you can hardly feel the "surface" or "texture" of the material, which is called "matière" (French: matière). The touch is fantastic and smooth. Huang Xoo Veen says, "The organs of the human body are similar to the organs of the universe." Let's take a look at Huang Xoo Veen's work, which focuses on the beautiful and magnificent theme of the universe, and how he continues to express his own sensibility while adding abstract expressions.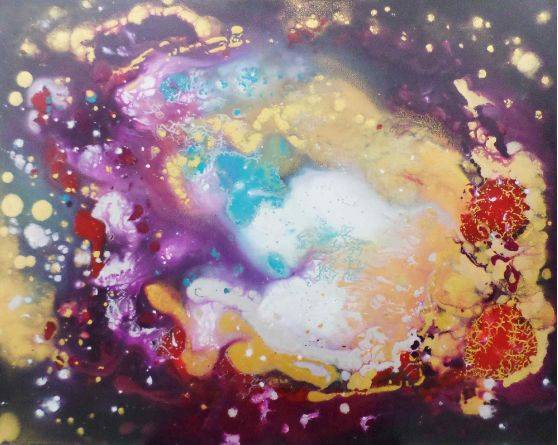 1.Career
I have had a great interest in art since I was a child, but when I won a prize in a contest I participated in as a student, my desire to become a painter became stronger! I wanted to be a painter! He entered university, but took a seven-year leave of absence due to family reasons. I even thought that I would never paint again. However, time passed and after seven years, I re-entered college as a senior. After graduating at the age of 30, he went on to graduate school. Although she did not like beautiful things, she happened to look at the night sky and was awakened by the beauty of the moon and stars, and began to be curious about space. From that time on, she began to incorporate the universe into her work.
2.Art and Communication
Everyone wants to talk about their painful experiences with others, and wants to be listened to with empathy. During her college days, Huang Xoo Veen used to express her heartbreak in her works. We can sense that his paintings were a one-sided emotional outpouring of his desire to heal his own emotional wounds and to be seen. She decided to go to graduate school because she wanted to draw pictures that would allow her to communicate with people. It is said that conversation is like playing catch with a ball, but throwing a ball at someone one-sidedly is not a conversation. Now, by including the grand theme of "space" in his paintings, he creates a theme with the same foundation as the other person and communicates with us through his works.
3.The strength of his quest for his work
He once tried to leave art, but decided to face it and returned to the world of art. From this, I can sense his deep passion and inquisitiveness for his work. It seems that he had some family problems, but even if many years have passed, it gives me courage to believe that it is okay to never give up on self-expression and art. The painful experience is an important step to the next work of art. If you don't give up, you will be able to step up to the next level and use all the events of the blank period as materials to create your work. It made me think that there are no wasted parts in life when creating art.
4.What is a Cosmic Artist?
I call myself a "cosmic artist," citing the universe, the night sky, death, cells, and fetuses as my main concepts. In his works, he sees the "universe" from various aspects and combines it with various other elements. For example, there is a work called "Ardent-Rising," which combines space and social issues. A red flower like a galaxy blooms in the universe. She seems to be expressing the quiet and majestic radiance of the universe and the endless wishes she has within herself.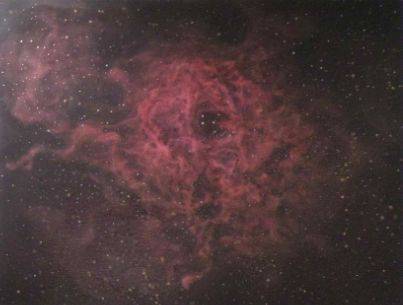 .
5.The sensitivity that Huang Xoo Veen possesses
The name of this work is "Immortal", which is a superimposition of the universe and fortitude. The universe is still expanding forever, and galaxies are repeatedly disappearing and merging into new ones. This work expresses the state of the universe and the spirit that revives itself again even in the face of difficult moments, superimposed on the fact that it "keeps moving repeatedly" like the universe. The idea of looking at the universe from a scientific perspective while overlaying it with human emotions to create a work of art is astonishing.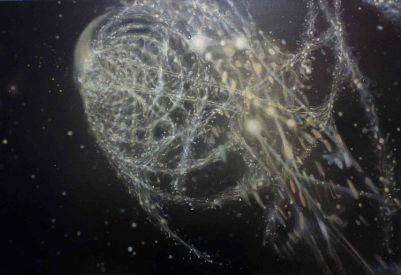 .
In the work "Again," there is a caption that reminds us of reincarnation. The universe has no beginning and no end, and so does life in a sense. It is also interesting to note that a star with a strong life-like red light is depicted at the center of the galaxy in the painting. This time, the "immortality of the universe" is superimposed on the "immortality of samsara," the cycle of life. The artist's unique sensibility is demonstrated in skillfully connecting the difficult theme of life with the universe.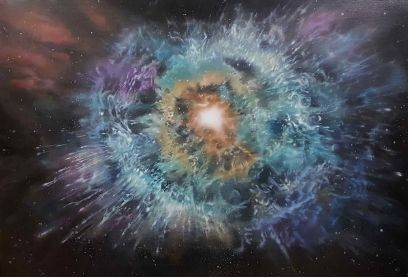 .
6.The message in the work
In addition to the beautiful and fantastic paintings, one of the charms of his works is that you can think about what the theme and the universe have in common, and find various deep fascinations of the universe.
There is a strong message in the work. I would like to listen carefully to the words of Huang Xoo Veen by feeling them and sympathizing and thinking deeply through his works.