Vivid, pop illustrations that catch people's attention. But if you look closely, you'll see creepy creature-like creatures and spicy captions that satirize the modern world. The city in the background has neon signs painted in Japanese, and Rafa Mata's artworks have a mysterious appeal. What is he trying to convey to those of us who live in the modern world?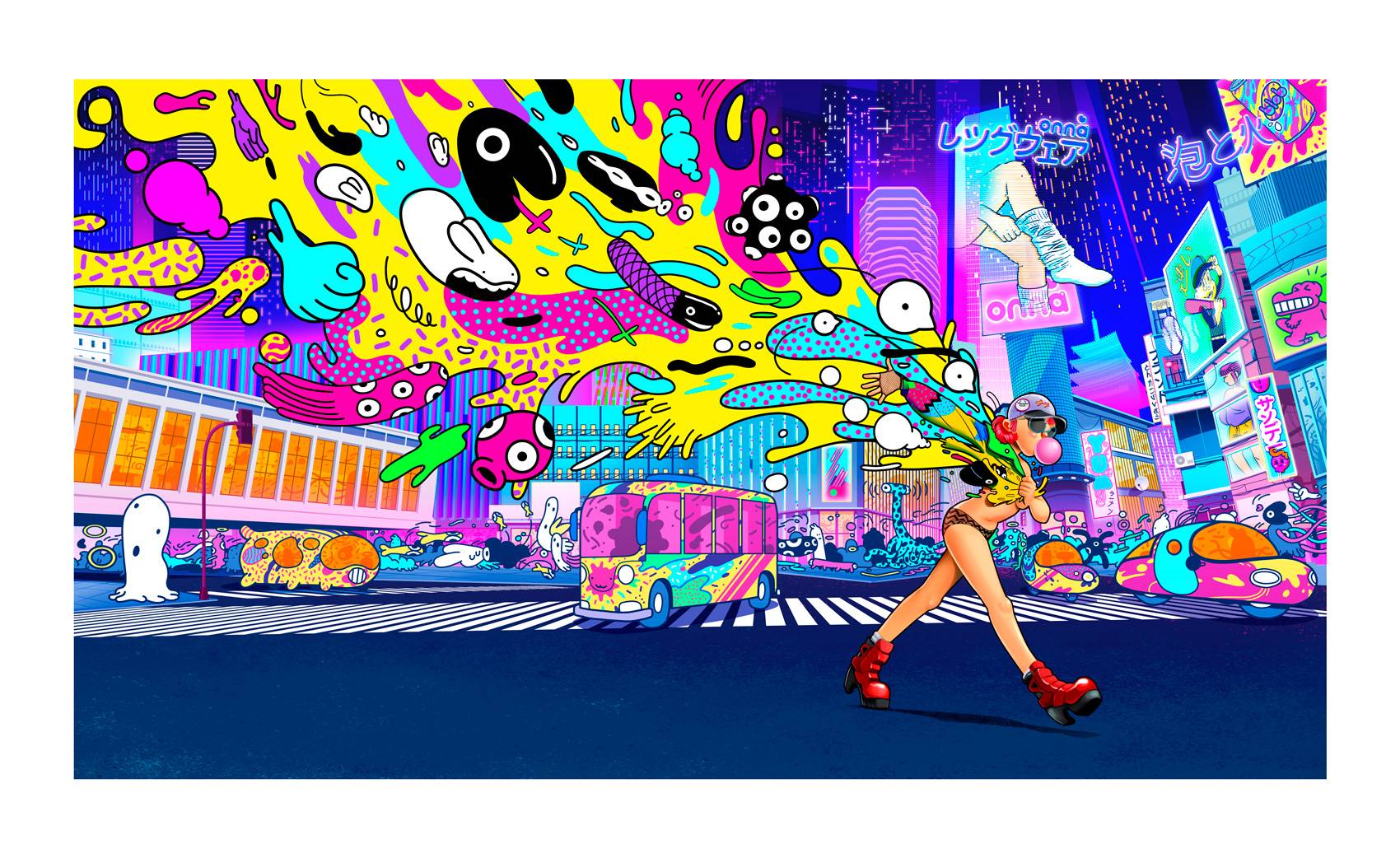 1.Biography
Rafa Mata is an artist based in Madrid, Spain. She has worked for 10 years as an advertising illustrator for major advertising agencies such as McCann Erickson, Ogilvy & Mather, and Havas. He has also lived in Los Angeles, USA, and experienced working with Hollywood scriptwriters to create works. The catchy, eye-catching design appeal of his work probably comes from these experiences.
2.Delicate, Lively, and Eerie
The entire work depicts women going about their daily lives in the city, and at a quick glance, it looks like a simple poster that gives a pop impression. At a quick glance, it looks like just a pop poster, but I noticed that it has a deep message in it. One of them is called "Level Up". Here, a woman with glasses is sitting and resting while holding a portable game console. It is a short time in the day when she plays with the game console during her break. During such a short time, many things are happening in the world, and the situation around her is changing every moment without her knowing it. It's a slightly different world than the one before I saw the game console. The word "Game Over" in the lower right corner seemed to indicate that I was isolated from the world because I was distracted by other things. We are all busy and easily distracted by various things. However, Rafa Mata's message is that if we only look through what someone else has created, we will be left behind by the changes and become isolated. This is a very thought-provoking point for those of us who are familiar with electronic devices.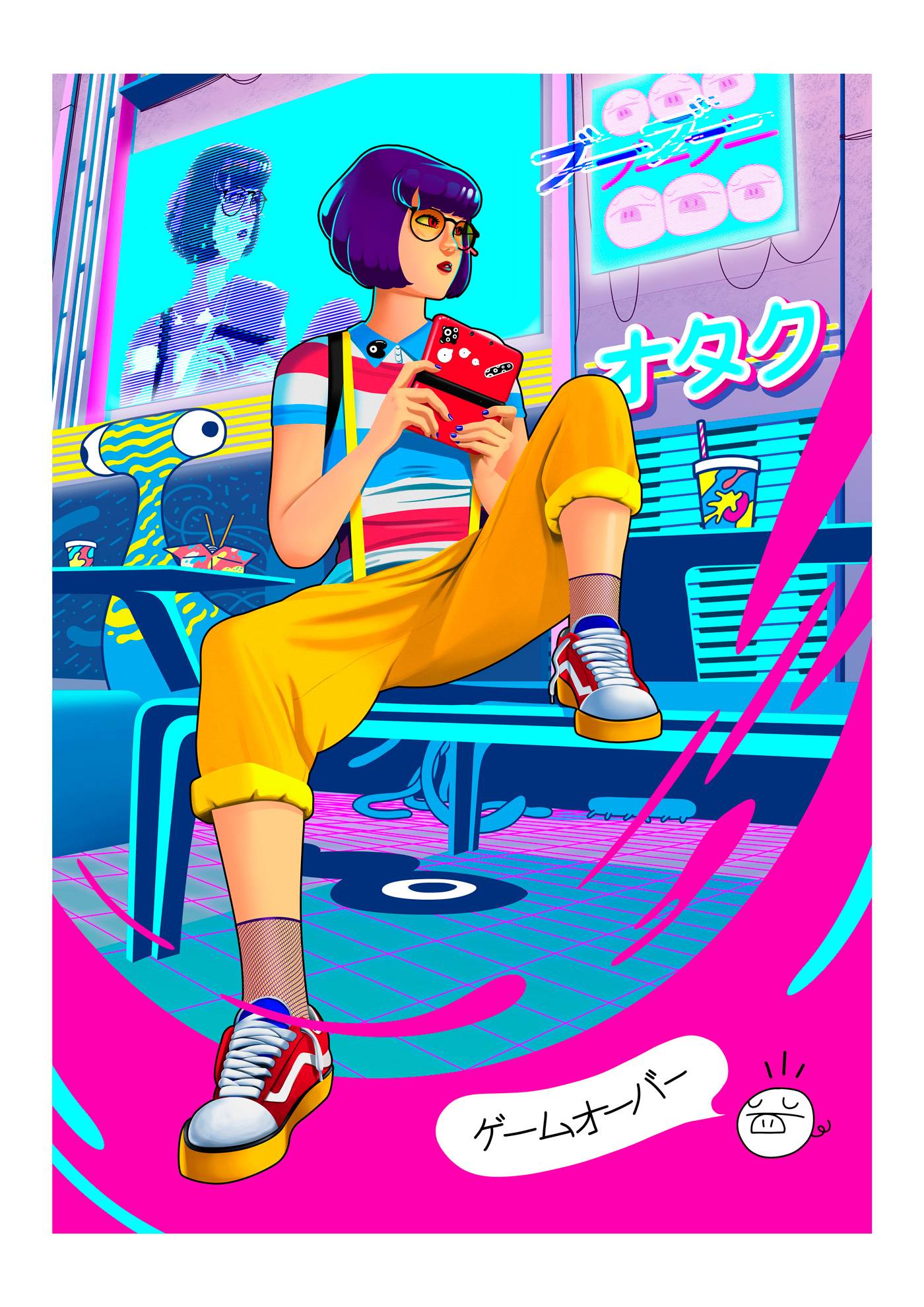 3.The theme of the work and "modernity
As I mentioned at the beginning of this article, the themes of my works are often based on issues that we tend to have, such as satirizing the modern age. Some of the themes include social media, self-image, and identity. In the piece "Macrobian Portrait II", a woman is looking at me wearing a strange patterned dress. It looks like a design portrait, but as I read it, my impression changed. In the past, brands used to advertise to get people's attention, but now, anonymous people are trying to get the brand's attention through social networking sites. The patterns on the clothes show that we all live with social media, advertisements, and viruses in our lives, and even if you gain a lot of popularity on social networking sites, you are still isolated from the rest of the world. This work is an expression of Rafa Mata's idea that even if we gain a lot of popularity on social networking sites, we may be isolated from the rest of the world.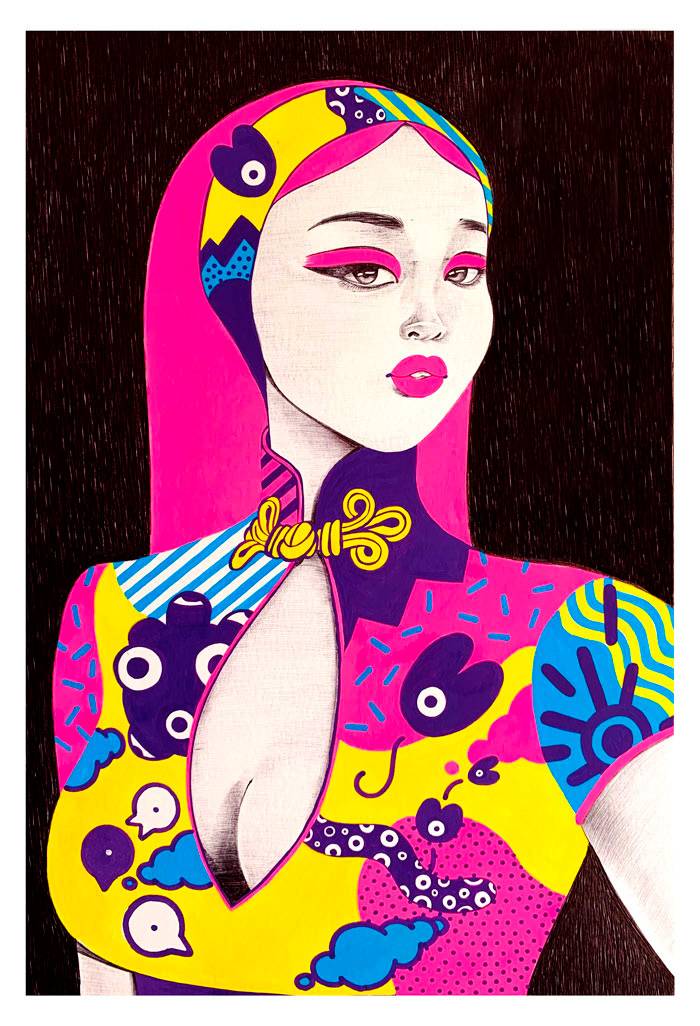 4.Messages through art and us
It has been shown that the brain takes in about 90% of information through sight, and art provides us with a lot of necessary information. Even the things we do in our daily lives without much thought can be deeply reconsidered by looking at artworks. I hope that Rafa Mata's artworks have given you an opportunity to empathize and reflect on yourself. If so, Rafa Mata's artworks will be an opportunity to enrich and change our lives.
5.Isolation in Pop Art
Rafa Mata's work focuses on isolated women, and she gives us an essential perspective on what it means to be isolated in this age of social networking and smart phones. Just because we live surrounded by people does not mean that we are not isolated. In response to such social themes, the artist uniquely combines East and West, myth and modernity, traditional gods and modern viruses and bacteria, without being bound by stereotypes. This skillful technique makes the whole film pop without making it heavy.
6.Development of Rafa Mata's unique art style
Rafa Mata is currently working on his first publication project, organizing exhibitions, and developing a new art style, and he posts his daily activities on Instagram and Twitter, where you can easily check out his latest works. There, he posts short videos of him actually drawing line drawings of his analog works, and he has a way of entertaining his fans so that they never get bored. We will continue to keep an eye on Rafa Mata's messages to those of us living in the modern age.